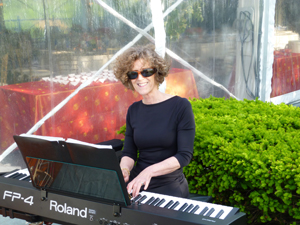 Recent events: Lois provided music for the Preservation Society of Newport County's Flower Show, Johnson & Wales Alumni Brunch, Newport War College Foundation Dinner, Newport Antiques Show Preview Party, Salve Regina University Commencement Luncheon, Mount Hope Farm Fundraiser, and the Hasbro Corporation Employee Appreciation Event, as well as many other business and private social occasions.
Lois and her musicians provide music for cocktail parties, business functions, family get-togethers, formal dinners, spiritual services, outdoor events, and other special occasions. Great care is taken to tailor the musical selections to fit the needs of each client, with special sensitivity to volume levels. Lois and her groups play for concerts, workshops, school programs, television, and video.
Two high-end portable digital pianos are available for sites where there is no piano. Grand piano rentals can be arranged. Lois's jazz & Latin quartet is piano, string bass, sax/flute/clarinet, and tasteful percussion/drums. Other instruments are available: trumpet/flugelhorn, steel drums, guitar, harp, marimba, harmonica.
Her repertoire includes music by jazz greats Duke Ellington, Miles Davis, Dave Brubeck, Antonio Carlos Jobim, George Gershwin, Cole Porter, Herbie Hancock, Horace Silver, and Thelonious Monk, and many other Latin, jazz and standard tunes.
Her dance band ranges in size from 5 to 8 musicians. The band specializes in swing, classic rock, Motown, disco, and reggae. Lois's classical quartet is piano, string bass, violin, and flute. The group specializes in elegant, tasteful music, predominantly from the Baroque and early Classical Periods - timeless composers such as Bach, Handel, Mozart, Vivaldi, and Pachelbel.
Piano Meditations, gentle music for healing & relaxation, is a CD of Lois's original music, available for gifts or tokens of appreciation with a custom-designed private label CD jacket.
For more information or to book a group, call 401.849.3470 or email Music@LoisVJazz.com.