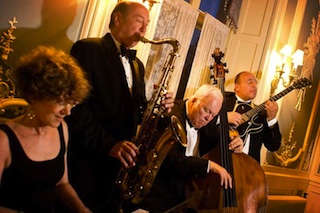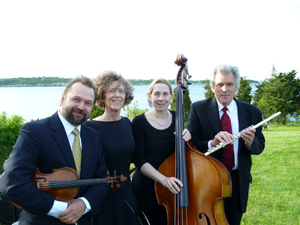 Recent weddings, welcome parties, and rehearsal dinners: Lois provided the music for Kirkbrae Country Club's wedding showcase. She and her musicians have played for weddings at Rosecliff Mansion, Providence Public Library, Aldrich Mansion, Castle Hill, The Chanler, Oceancliff, Marble House, Chinese Tea House, Kay Chapel, The Eisenhower House, Kirkbrae Country Club, Omni Providence, Warwick Country Club, Conanicut Yacht Club, Newport Marriott, Redwood Library, Belle Mer, and many other venues.
Lois and her musicians provide music for wedding ceremonies, cocktail hours, receptions, rehearsal dinners, and post-wedding affairs. Great care is taken to tailor the musical selections to fit the needs and tastes of each bride and groom, with special sensitivity to appropriate volume levels.
During peak times, there is a two-hour minimum.
For a small event, Lois recommends either solo piano or a piano-string bass duo. Trios, quartets, quintets, and full bands or orchestras are great for larger occasions. Her classical quartet includes piano, string bass, violin, and flute. Trumpet players and ceremony vocalists are available. The jazz quartet consists of piano, bass, percussion, and sax/flute/clarinet. Her dance band is 5 - 8 musicians, including guitar/male vocals and often female vocals.
Other instruments are available for you: guitar, harp, steel drums, marimba & harmonica. Two high-end portable digital pianos are available for sites where there is no piano. Grand piano rentals can be arranged.
Piano Meditations, gentle music for healing & relaxation, is a CD of Lois's original music, available for bridal gifts or tokens of appreciation with a specially custom-designed CD jacket.
Call Lois at 401.849.3470 or email Music@LoisVJazz.com for information and bookings.
Testimonials:
"You were absolutely delightful to work with from start to finish--from meeting with you earlier in the year to the evening of our reception, we were entirely confident that the music would be the ideal final touch to what was truly a beautiful weekend." - C & R
"I have heard lovely comments from our guests about the music you provided. I cannot thank you enough for working with me, and especially Emily and Ted, to achieve their dream wedding." - CP
"Thank you for setting the stage for our wedding. Your precious gift of music filled the air with amazing sounds that will remain in our minds and ears for a long time. You are amazing!" - JN
"Your musicians were wonderful! Exactly what we wanted. Everyone commented on how excellent they were, and George and I really enjoyed the music." - MW